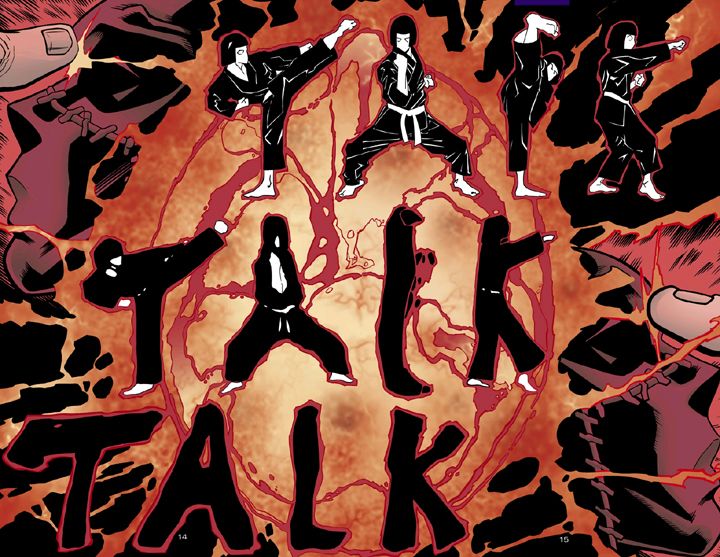 Damion Scott, pencils/Robert Campanella, inks, Batgirl #4 (July 2000)
Kelley Puckett and Scott Peterson put Batgirl in harm's way. Here's Damion Scott's interpretation of the moment where Cassandra Cain gains the ability to understand language. While this leads to some of the best issues in the Kelley Puckett run, I think they introduced this element way too soon in the series' run. I really would have liked it if they'd slowed down the pace a bit and spent more time establishing Cass's status quo before changing it, but change it they did and this cool double-page spread is the result.
I doubt Damion Scott means to imply an exact equivalence between the martial arts poses and either the graphemes or phonemes making up the word "talk." The top figures may look like ideograms, but I don't think that's what they're meant to be. After all, we never saw Cass use combat postures as a form of full-body sign language. I think they're meant to be simply a visual representation of Cass's body-movement understanding, a kind of rough symbolism because they approximate the letter shapes. This is a neat way to communicate to the reader what it's like to live inside Cass's head.
How else could you do this? Well, there are probably a few other ways that might also get the point across, but Scott's version works well enough. The thing that's odd to me is that the diagonal eye-movement is downward from right-to-left, which is a bit wonky. If the Cass head in the upper left-hand space represents pre-verbal Cass and the lower right-hand one is post-transformation Cass, it would be more appropriate for the figures to become words going from left-to-right, the way we read. But the way the heads frame the center diagonal, they're forced to run counter. Changing the diagonal would require putting the left head at the bottom of the page, and that would be a complete mess because the eye would have to climb the pages to read them. Scott's solution is more direct than elegant, but we understand what's happening. And that's the main thing.
And while this is probably apropos of nothing, the inking by Robert Campanella gives this spread a vaguely Jack Kirby-ian look. Probably due to the abstracted black shapes representing energy or Cass's brain being changed and the geometric shadows on her mask. Also those little energy lines in the background.